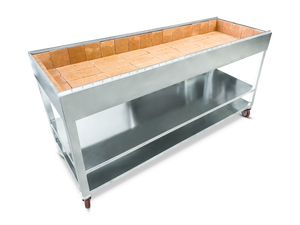 Description
These grills will not be shipped. In store pickup only.
The KabobMaster Cart Series Grills are charcoal grills designed to be portable. This grill has 4 large swival wheels which can be used to easily move the grill around. The grills all come with a shelf below the fire box and a handle on each end of the grill.
The grill features a 12 gauge rust resistant, galvanized steel fire box, rust resistant galvanized steel lid and legs. The fire box is built from a single sheet with 90 degree bends on all four sides to prevent bending and warping from any heat source.
All grills come with cutouts (slots) on the front and rear sides for skewer placement. 
Use of wood, charcoal and mesquite woods are suitable and recommended heat sources for all KabobMaster Grills.
Includes a BBQ grateholder. Stainless stel grates may be purchased separately.
Suitable for catering large events.
THIS ITEM IS "PICK UP ONLY".
Allow 10 days to manufacture.
Custom sizes available upon request.
Firebox Dimensions: 72 in. (L) x 19 in. (W) x 5 in. (H)
Material: Rust resistant galvanized steel
Capacity/Skewer Slots: 35
Specifications and Manuals